Up in the morning and off to… Safelite. Remember that big rock that smashed my windshield on the way from Memphis to Little Rock? Well, I was able to make an appointment at Safelite in Broken Arrow OK and they were great! I was the first appointment of the day, they took my car back early and I was in and out in less than an hour! Gotta love it when you get good service, so mad props to them!
I had a brunch planned for the morning of day 3 with a friend of mine, but with Safelite done so early, I had a chance to get out and take some pictures along a different stretch of Route 66 in Tulsa. This one is my favorite, it's a charector named "Buck Atom" and even though it was late September, he was dressed for halloween.
If you like this picture, click on it and it will take you to the Fine Art America site when you can get prints and phone protectors and tea towels of it if you like. If you are interested in other photos from Route 66 in Tulsa I have an album on Google Photos.
So, brunch was a lovely diner style meal at a place called Savoy and I was off down the turnpike to Oklahoma City. I thought it was interesting that the only state on the whole trip that charged a toll was Oklahoma, in fact I payed more than $20 in tolls to go around OK. Now, you do get the benefit that some of those toll roads have an 80 MPH speed limit, but 75 and free would be OK with me.
Oklahoma Science Museum was the big stop of the day and let me tell you this is a top tier museum. Not only does it incorporate the STEM elements of a place like the museum in Little Rock it has some great exhibits. OKC being a railroad town I enjoyed seeing an old Pullman car and some of the exquisite model railroad work. A nice planetarium show that was interactive with the audience was something I didn't expect to do but really enjoyed.
I loved the broad view of science and engineering. They have an enticing view of scientists that allows you to pick your favorite. I wanted to pick Tesla however they were sold out of those pins, so I settled for Newton. I really think there is something here for people from 5 to 15 to 50.
In addition to a giant Tesla coil, which I always get a charge out of, they had a really nice display of Apollo items, particularly focused on Apollo 10 and astronaut Tom Stafford. It was a big surprise to see Stafford and the other A-10 astros received an Emmy for an out of this world telecast.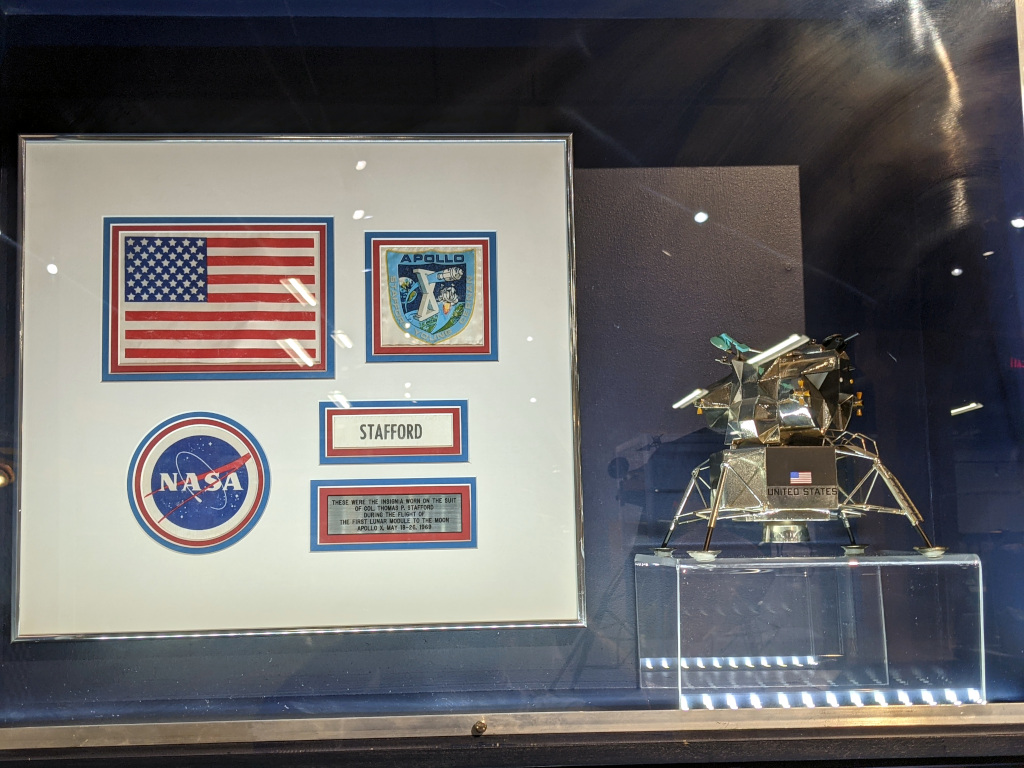 I did not end up stopping at the OKC memorial. I could claim time as an issue, but I'm familiar enough with it and I just felt it was better personally to roll on.
Great view of the sunset as I drove west. I mentioned in one of my TikTok's that it was cool to be able to charge in places that are likely powered by alternative fuels. In Arkansas it was nuclear and in Western OK it was wind, they have very impressive wind farms. Rolled into Shamrock after dark and called it a night.
TikTok Archive – Alternative Fuel Tesla Charging | Day 3 Recap