Day 3 may have been one of the latest nights I pulled into the hotel, it was well after dark but an easy ride on I-40 the night before. Really friendly folks at the Holiday Inn in Shamrock and I knew with a 400+ mile day of driving ahead, I wanted to get a walk in before I started. So I pulled up to the Tesla Supercharger before sunrise and was pleasantly surprised to find the charger was behind the beautiful Conoco station you see above. It really does look like where Tow Mater from Cars is from, and you can see a truck peeking out from the end of the building. While I strolled around the streets of Shamrock, which has a Taco shop on one side of the street across from a Burrito building, I was able to catch the sunrise.
The sun was up when I started heading west on I-40 on a Thursday morning. I was in Amarillo by morning, the blustery wind and 50 degree temps stayed with me most of the day, so it was smart to wear shorts (eye-roll). It was a big roadside attraction day. The Helium Time Monument was interesting, I had no idea that Amarillo was a big helium town. I really like that it was not only 4 different time capsules, two of which have been opened, it was a sundial. Unfortunately no sun to give me the view of that.
Bug Ranch, which is some old VW beetles buried, was unimpressive. Maybe if you are a VW lover it's worth a stop but otherwise pics will do. Cadillac Ranch is better, but don't be fooled by the RV park like I was.
Trip Milestone: My first day more than a mile high on the trip, passing 7,000 feet on the pass into ABQ.
The next stop sets up events over the next 3 days in New Mexico. The National Museum of Nuclear History and Science is right near the gate of Sandia Labs in ABQ. The museum primarily focuses on the nuclear weapons aspect of atom-splitting but there are some other shout outs to things like Nuclear items in pop culture and Nuclear Medicine. It has a well done version of "The Gadget" which was the first nuclear bomb tested and replica of the tower used at the Trinity test site. It would have to be a replica because the original one went boom. I think what really surprised me was the breadth of ways that the US had created nuclear weapons, from backpacks to missiles to air burst (oh my!).
I was excited to buy a little piece of history at the Nuclear museum. When the test was conducted at the Trinity site, it created a glassy debris called trinitite. It's fairly rare but they sell small samples at the museum. I bought 1.2 Ounces for about $60. Here's my sample of nuclear waste.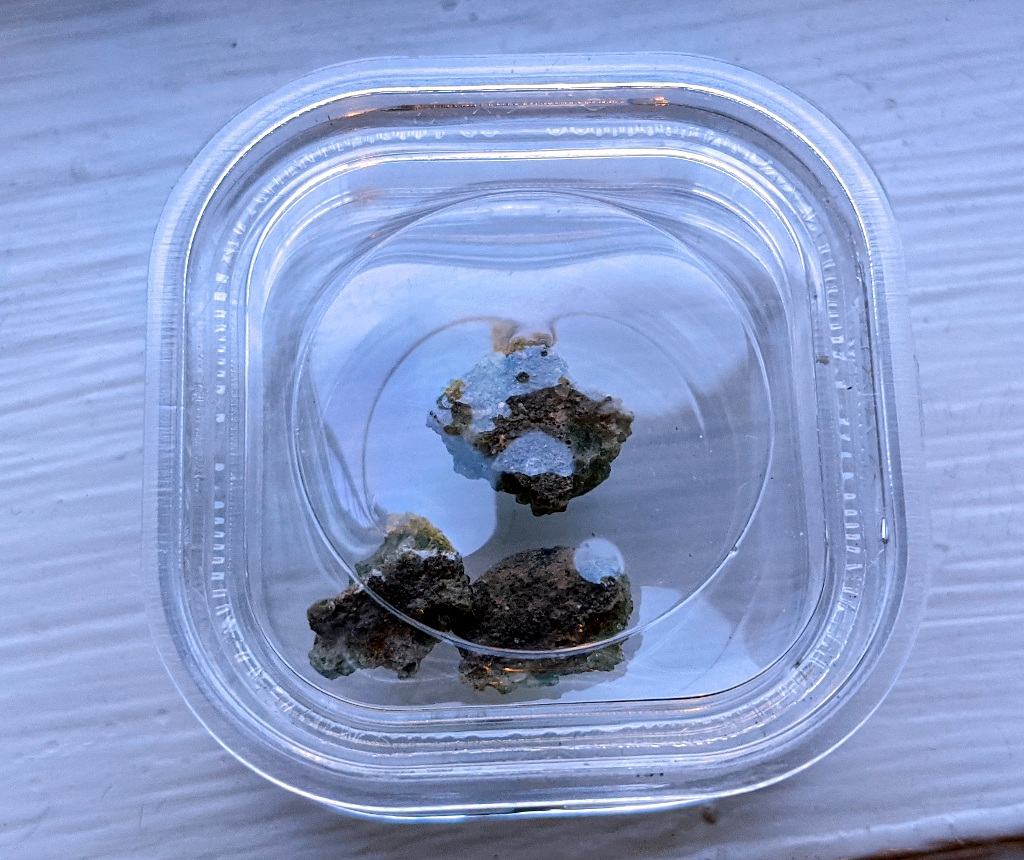 Local pizza and a quiet hotel room (Holiday Inn Express) finished off the night.
Photos – Selected Day 4 Pictures
TikTok Archive – Day 4 Recap | Flashback – Blue Hole Stop