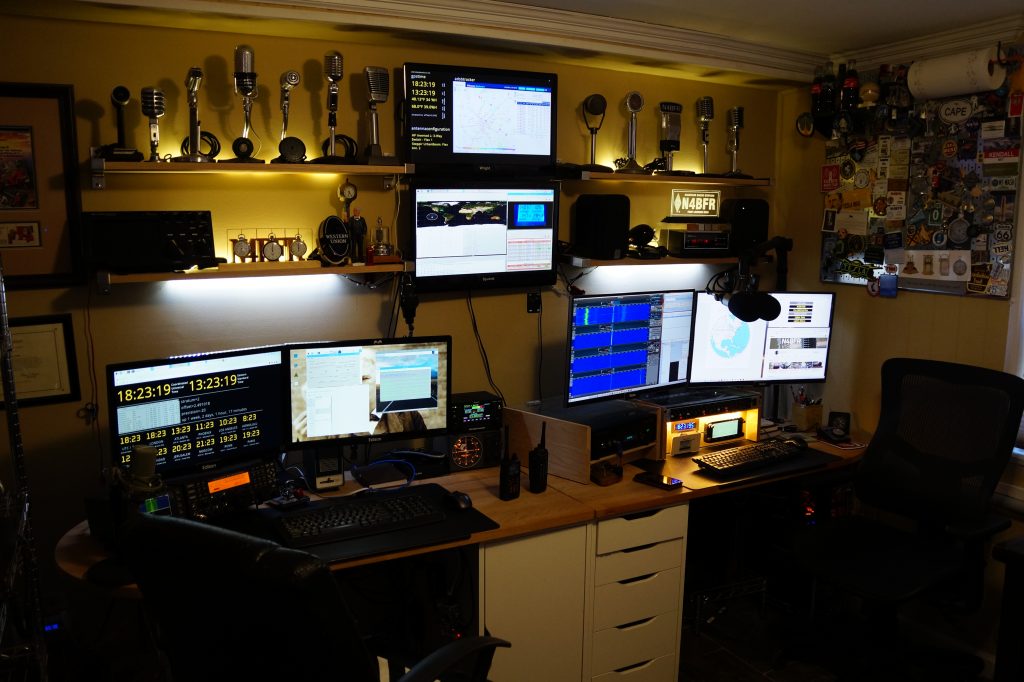 For their next Zoom meeting, the Atlanta Radio Club is having a "show us your shack" session so I thought I would use this time to share mine along with some detail on what's there. For ease I have numbered many items and linked to more information where I can.
---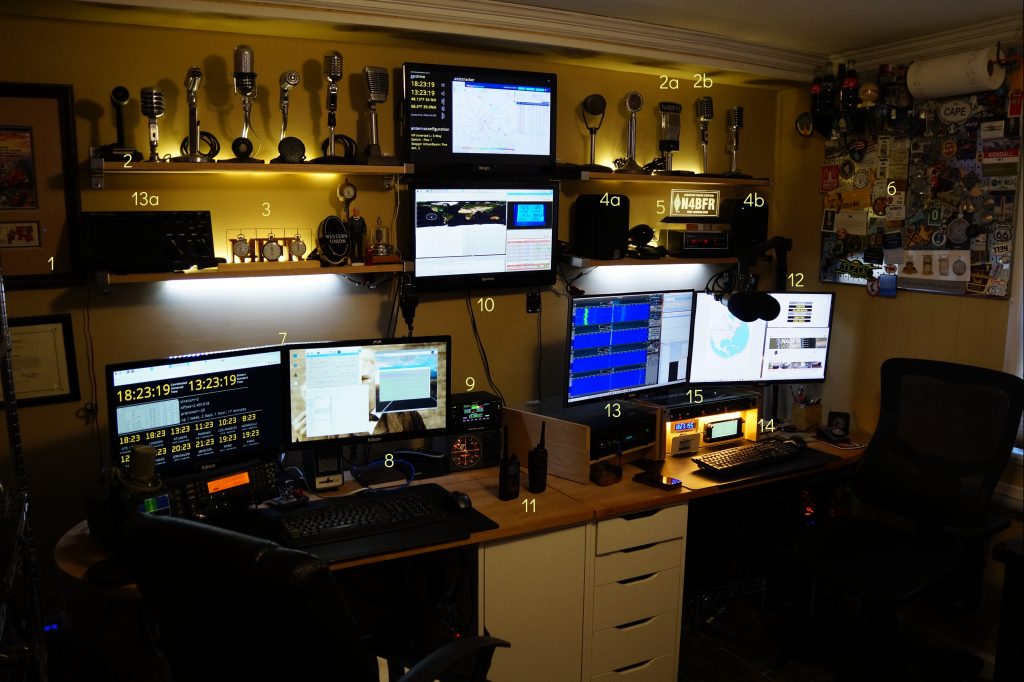 Let's start from the top left:
(1) Photo & Certificate: The photo is the cover of QST Magazine from August 2011 and a copy below of the short article and a photo from the Coca-Cola 125th Special Event Station the Atlanta Radio Club put on. The certificate is my Volunteer Examiner certification, it lets me be part of a testing team for new ham radio licenses issued by the FCC.
(2) Part of my microphone collection, along with a couple of other odds and ends. (2a) is the Heil Sound Classic Microphone which I added the call letters to in this YouTube video. (2b) is the Shure 55SH which inspired my N4BFR Vision logo.
(3) is the brass and wooden Watch Stand I made back in July. Next to it is an old Western Union sounder that would summon someone to your shop to pick up a telegram.
(4a & b) are JBL Control 2P speakers. I've had these 2 years now and I really recommend them, they sound great. Not shown, but for PC audio I use the Schiit Modi 3 DAC and I can really tell the difference a better Digital to Audio converter makes.
(5) is my lighted call-sign sign I bought to celebrate 10+ years in Amateur Radio. It's made by Gifts4Hams.com which does a lot of very nice laser engraving. I have a QSL card chest from them as well. Under the sign is the Heath GC-1000 "Most Accurate Clock" which was part of my 24 Hours of Clocks YouTube experiment. Between that and the speaker is a Ducati desk mic I found at an estate sale.
(6) is more of a memory wall than anything else. The panels are by Wall Control and I liked them so much I ended up redoing my workbench with them as well.
(7) is one of Ham Radio stations I have in the room. When I designed this 8+ years ago this was set up to be a contest shack that we could run Morse and Voice in at the same time and we even worked a third station in for digital. This station is named "Edison". The radio is an Elecraft K3 with a Panadapter. This station uses a Raspberry Pi 4 4GB for logging, digital modes, and just about anything I need.
Showing on the Edison monitors is my dashboard for all the Raspberry Pi clocks (like this one powered by a Pi Zero W and GPS board similar to this one. ) – it also shows some international clocks I did via HTML. On the right monitor is the control window for my DV Access Point Dongle for a home DSTAR Hotspot and the control window for my APRS IGate powered by a Yaesu FTM-100, A Rigblaster Plug & Play and a Raspberry Pi 3.
(8) is a Tivo Mini, I can repurpose one of the Edison monitors for TV and run the audio through the JBL speakers for watching news and weather.
(9) are antenna controllers. On top is the SteppIR SDA2000 Controller for my SteppIR Urban Beam antenna, and below it is a Yaesu G450A rotor controller that I put an add-on board in for control from my PC.
(10) Are the Wright and Sputnik monitors where I monitor things of interest. Wright is on the top and I think of these two as a dashboard, it shows Local and UTC time, temperature inside and at KPDK, my ADSB receiver so I can track planes in the neighborhood and I manually keep antenna configuration displayed. On the bottom is Sputnik which tracks the International Space Station via a program called GPredict. Since my 70 Amp Astron 12 Volt power supply is not where I can see it, I use a Raspberry Pi Zero W as a Web Cam to see the status dynamically. I also keep a text log of states I need to complete my ARRL Worked All States awards and the web interface for my PiStar hotspot which gives me DMR access. Wright and Sputnik are powered by separate Raspberry Pi 3's in Kiosk mode.
(11) My handhelds for DStar and DMR. Currently using a Kenwood D74A for DStar and APRS, and a used Motorola XPR6550 for DMR.
(12) starts the big "Tesla" work station where I spend a lot of my time. I have gone through different monitors but I expect these LG 27UD68P 4K HDR monitors to last me a while. Not shown but they are powered by an ASUS ROG Gaming PC I picked up a few years ago.
(13) is my Flex Radio 6500 HF Radio. This is a terrific radio, a big step up over the Elecraft K3 (which is a wonderful radio in it's own right). 4 tuners, covers DC through 6 meters, plenty of expandability and integration. I also have the (13a) Flex Radio Maestro for listening and operating around the house or the neighborhood via Wifi. I am really glad I got on this system early on. I am thinking of upgrading to a 6700 for even a few more features, but I haven't pulled the trigger yet.
(14) For VHF / UHF and D-Star I have the ICOM ID-5100 radio, which I liked so much I bought 2. One for the shack and one for the car so I don't have to learn 2 different radios and I can share programming in-between them with SD Memory cards.
(15) Mixes 6 different audio sources including the radios and PC plus and Alexa and the TV. It's the Behringer Eurorack Pro and it's just what I need. I tried a fancier PC controlled mixer for about 6 months and for simplicity of being able to reach up and turn the knobs or mute something quickly, it can't be beat. By the way, the Flex and Mixer are mounted in 2 wooden stands I custom made. Just below the mixer is a 7-Segment clock I made with a Raspberry Pi (are you getting a theme here?). Under that is an eInk display I use to track when future SpaceX launches are. Yes that is powered by a Pi as well.
I think that wraps it up. I would love to get questions on any of this or have discussions or even give support. Check me out on Social Media at https://www.facebook.com/N4BFRVision or https://twitter.com/N4BFR_vision.
---
Disclosure: All of the items above were chosen by me and comments are my personal opinion, I received no special discounts or materials. Some of the links above go to Amazon.com. If you purchase through those links I may receive a commission.