For a long time I have used two mics for my amateur radio setup, a Heil PR-40 for my HF rig and A Heil PR781 for my ID-5100. I received good audio feedback all around and every time I tried to get down to 1 I'd get noise in one or the other rig and I'd just go back to what worked.
Recently I've been doing some writing work and that's required me to have conference calls a couple of times a week. The mic on the camera is decent, but I have these beautiful professional mics right next to me, and it was killing me not to use them.
I ended up purchasing a new tool to help me integrate. The Focusrite Scarlet 2i2.

Now, instead of the PR-40 going straight into the balanced input of the Flex 6500, it runs into the 2i2. The 2i2 has 2 line level outputs on the back. I run that to the Flex 6500 and it doesn't know the difference. With the Focusrite's USB connection to the PC, it sees it as a sound card that I can run into Zoom or Google Meet. No sweat.
This still leaves the problem of feeding the ID-5100. I've done this for now.

[Image Removed – It was a hot mess.]
I received feedback from the folks on the Atlanta Radio Club Sunday Night Net that the XLR Split leaves my FM audio with a high pitched whine in it. So, as the graphic says, I'm going to build an adapter to come out of the other Scarlett 2i2 line out port and step the audio down to Mic level for the 5100.
Parts are on order. I'll update later this week on how things go.
17-Feb-21: It's Later. Here's what happened.
The device I made didn't work as planned. I also purchased a commercial device and tried it on the line to the ICOM 5100. It didn't like that either. So I purchased a mic filter that seems to mitigate some of my audio issues and here's what the chain looks like.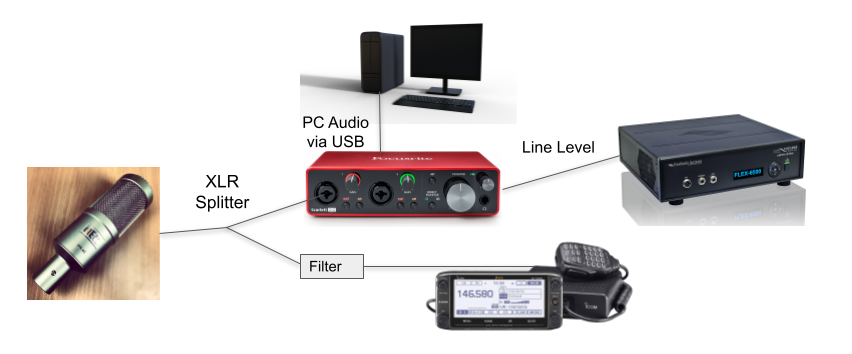 If you have any thoughts on this, hit me up on Twitter @N4BFR.